---
---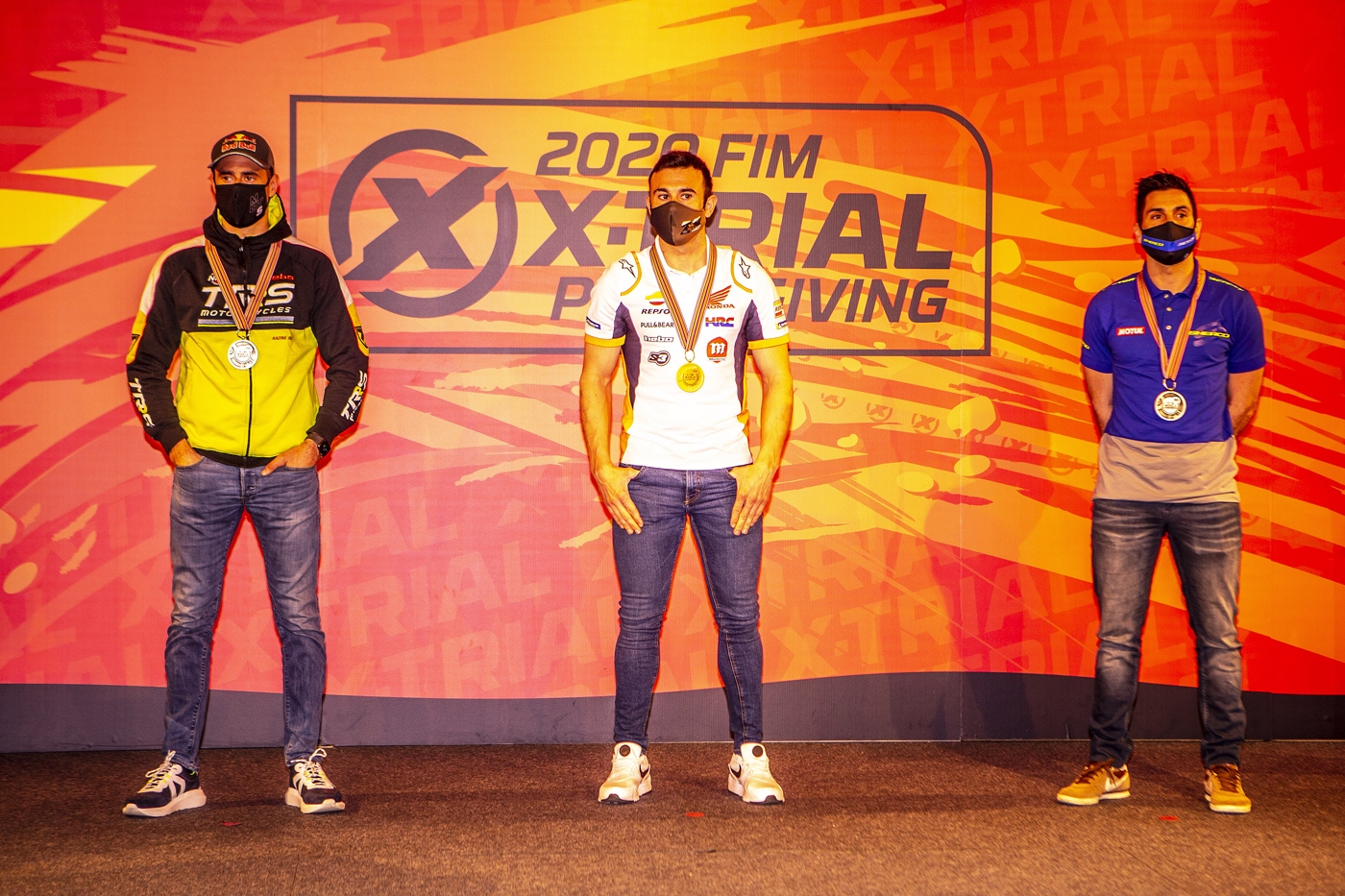 Toni Bou, Adam Raga and Jeroni Fajardo collect their honours from the 2020 season in Andorra la Vella
The Centre de Congressos de Andorra la Vella was the scene for the official 2020 FIM X-Trial World Championship prizegiving ceremony, in which 14-times World Champion Toni Bou, runner-up Adam Raga and world number three Jeroni Fajardo received their FIM medals from the 2020 season.
Alongside the local authorities and members of the Andorran government, FIM Vice President Ignacio Verneda awarded the honours to the top trio from the 2020 World Championship. Toni Bou was subsequently presented with the X-Trial World Championship gold trophy by Conchita Marsol, the mayor of Andorra la Vella.
Bou claimed the 2020 title with a maximum 100 points for five wins secured before the Covid-19 pandemic brought a premature halt to the season. Adam Raga, meanwhile, claimed his tenth silver medal with an unbroken run of second place finishes. Jeroni Fajardo was best of the rest, securing a place on the Championship podium for the third time in his career.
Toni Bou (World Champion): "It was a special and unique season. When we started in November we could never have imagined how it would end. The season was very positive, because I won every Round, although it was tough because the riders were more equal than the Championship classification might suggest. It wasn't easy to find advantages, especially in the Finals. I have continued to improve and also analyse those areas that I can work on for next season. I am pleased not only with my wins but also my consistency and I am really looking forward to returning to competition, especially once we can get back to a normal life without the current health risks. That's the most important thing, getting to the end of this worldwide nightmare caused by the pandemic."
Adam Raga (Runner-Up): "I am positive about the season and my place as runner-up, since I made every Final and I was close to some wins. I am pleased with my form that I feel is reflected fairly in my results across the season and this finishing position. I hope to continue in this vein for 2021. I have been among the top three in this discipline for almost two decades and I have of course been World Champion on four occasions, so I can be proud of my career to date."
Jeroni Fajardo (3rd): "Returning to the Championship podium is especially pleasing because it represents a very successful debut with Sherco, my new team. I started the season with a podium and I was very close to another at X-Trial Bilbao only to lose out in the tie-break. My 2020 season motivates me to keep working hard to maintain my position and keep improving. I hope that conditions will allow us to return to competition as quickly as possible, because that will also mean that the global health situation is improving."