---
---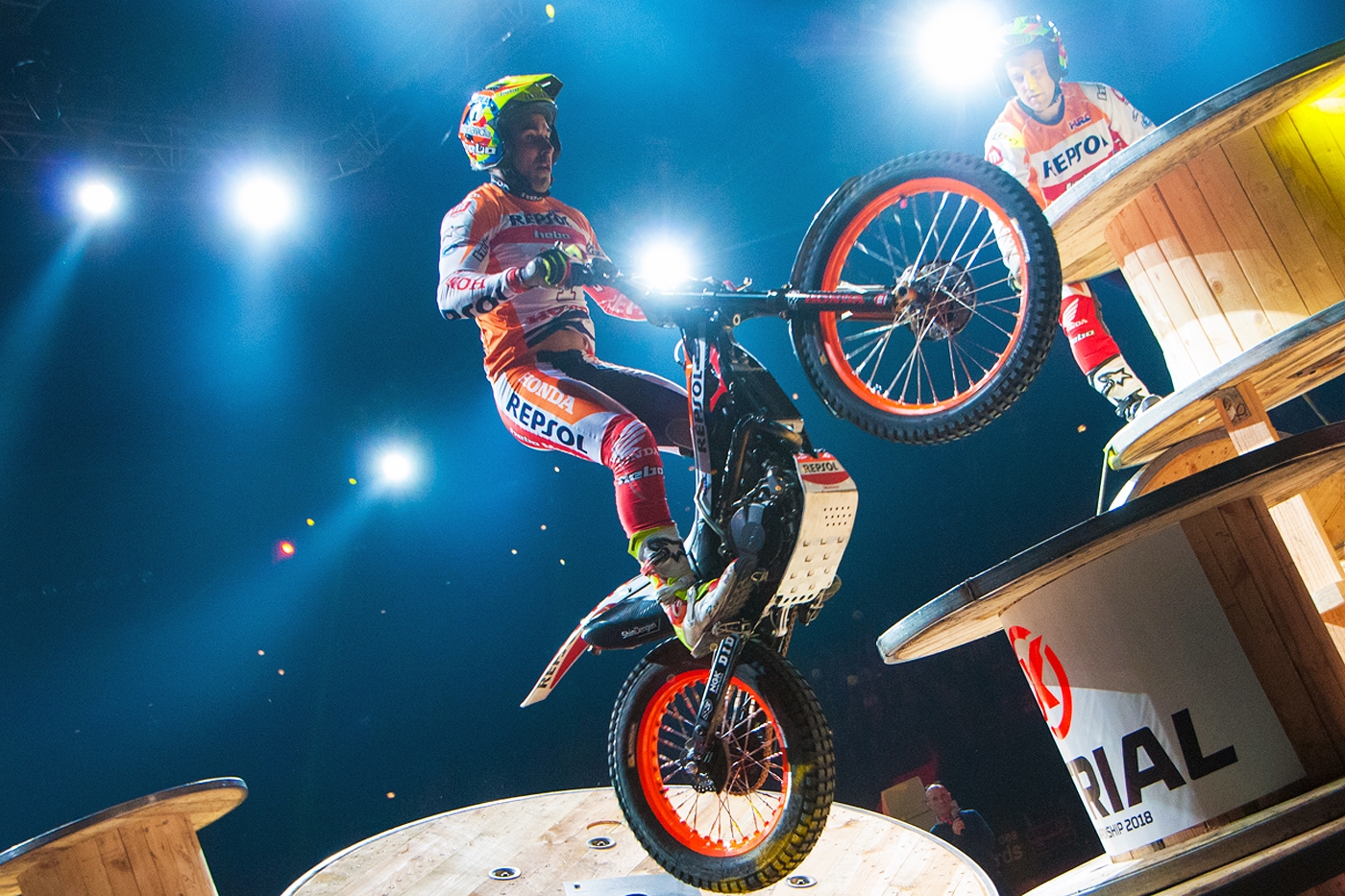 Toni Bou extended all of the sport's records and his own legend by claiming an unprecedented twelfth FIM X-Trial World Championship crown this season
Toni Bou's X-Trial World Championship dominance continued into the 2018 season as he claimed a twelfth consecutive world title. The Repsol Montesa Honda rider raised the bar again despite a back injury that affected his results in the closing stages of the campaign.
By the time he lined up to ride through the pain barrier at X-Trial Paris, where he failed to make the Final, Bou had already won the opening five rounds and the title. And after sitting out X-Trial Budapest under doctor's orders, he returned to claim the X-Trial of Nations for Spain, continuing his reign in this spectacular discipline. The record-breaker reflects: "Getting here has already been more than a dream. It has been a fantastic season. I had a great start that gave me the advantage I needed to claim the title two rounds from the end. I am most proud of my strong riding at the start of the season and my five victories. My injury complicated things somewhat, and I tried to come back as soon as possible. But without a doubt, that excellent start was the key to this title considering those later complications. The Championship has had a very high technical level, just how I think a World Championship should be. I am certain that the public enjoyed it a lot, and for me it has been most important to keep raising the level, and to keep improving from round to round. In the first two events my victory margins were relatively small, but I gradually grew the distances between me and my rivals."
Bou successfully tackled three different rivals in the Finals of another Championship-winning season. Adam Raga (TRS) finished runner-up to Bou on three occasions (Montpellier, Toulouse and Barcelona), Jaime Busto (Gas Gas) took second in Vendée and Miquel Gelabert (Sherco) in Strasbourg.
Bou recognises that there is no secret recipe for protecting top spot and that it all comes back to hard work: "In the end, what gives you a title is consistency. It's more important than necessarily winning every race. I am very clear that it's crucial not to drop from the podium and to avoid big mistakes. The new format has added a very significant strategic element to the competition, because it's important not to be eliminated. We know that we can't fail technically, but also that we need to use strategy to pass each objective as the event goes on."
Although Bou's extraordinary performances and results might suggest an easy run to twelve world titles, he has no lack of motivation: "Ever year it gets harder, so the only way to keep growing is to never stop improving and always aim for something more. We have had the great fortune to always find the right route, which is far from easy. You might think that accruing so many titles takes away some of the value from winning, but it's quite the opposite. The pressure and nerves are more with each title, your rivals have a clear target to beat, so you have to keep improving to remain ahead of them. That means each title is different and enjoyed in a different way. Also, every title has a lot of meaning when you reflect on the hard work and effort needed to take it. This year, my injury made me value things in a very different way."
In the first season of the new era in the X-Trial FIM World Championship various changes to the competition format were introduced, but far from impeding Bou's march to victory they instead provided him with renewed motivation and objectives: "It has been a season of change that we have gradually worked to understand. It was all about understanding how to prepare for six minutes of straight competition in each round and doing so without the help of the minder. At first it was a question of adapting the riding to these new circumstances, and we probably made some mistakes because of that, but we gradually evolved through training and competition and steadily improved. For any Champion, usually change is a negative because the last title was taken with the old rules, but it also means a new challenge, watching how your rivals have worked on the same process and forced you to evolve. That's how it works with rule changes in any discipline, the important thing is to keep improving to stay at the top level."
From an outside perspective, expectation might be that accumulating victory after victory could lead to a loss of motivation for a rider such as Bou. But the X-Trial's main star finds it completely the opposite, and uses it to fight for even bigger goals. There are no secret recipes for Toni Bou, only hard work and enjoyment of what he does: "At this stage of my life and sporting career I have already achieved much more than I could have dreamed of and the goal is to stay here as long as possible. It's all about competing with a will to win, and the most important thing is to be satisfied with what I do and never to stop working to improve from day to day."
That sounds as a declaration of intent from Toni Bou, who is already preparing a challenge for his 13th X-Trial World Championship.