---
---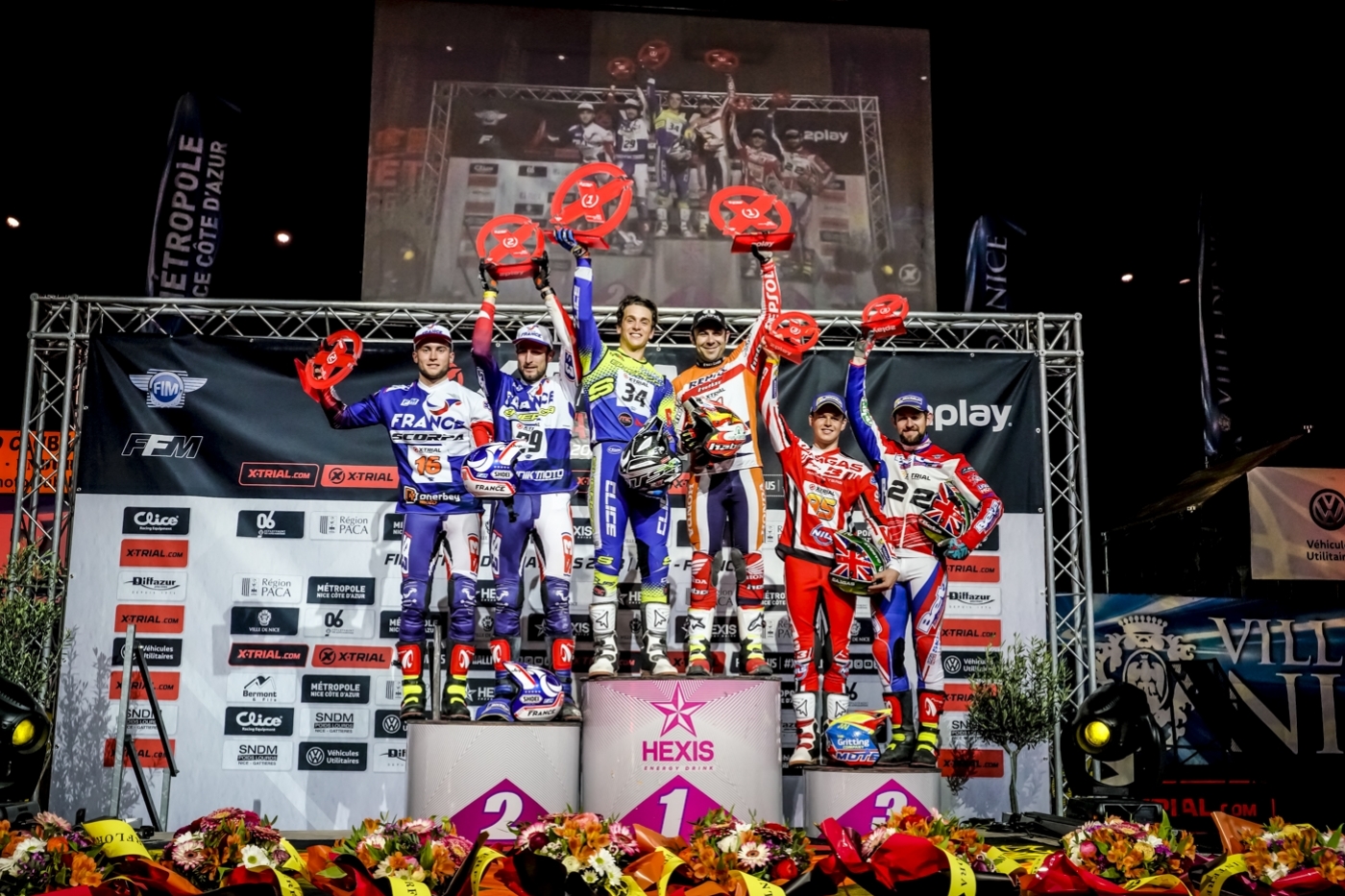 Toni Bou and Miquel Gelabert recorded Spain┤s twelfth X-Trial of Nations title after an intense 2018 edition
Spain extended their unbeaten run in the X-Trial of Nations, recording a twelfth crown in front of 4,500 spectators who packed the Palais Nikaia in Nice. In an intense Final stage, the reigning Champions represented by Toni Bou and Miquel Gelabert came from behind to beat home duo Benoit Bincaz and Alexandre Ferrer.
Favourites Spain had been the early leaders with a three-point advantage after an opening round that had seen them drop just a single mark. But in Round Two the French pairing put in a sensational performance that saw them drop just five, and Spain slipped two marks behind them.
In a demanding Final, the Spanish pair were able to return to their best, while the French team´s hopes of a shock victory were ended by four successive fiascos.
Completing the podium in third position were Great Britain, whose duo of James Dabill and Jack Price were unable to repeat their 2017 silver medal exploits, falling back having sat just a single mark from France at the end of lap one.
Italy (Matteo Grattarola & Luca Petrella) were an isolated fourth, well back from the podium places but comfortably clear of Germany´s inexperienced Franz Kadlec and Max Faude who finished fifth.
SPAIN (1st):
Toni Bou: "It´s good to finish this season with a victory, especially as France made it difficult. In the second lap we made some mistakes, but in the Final we were able to open a gap. I would like to congratulate Miquel on his first title, because he rode very well under pressure."
Miquel Gelabert: "This win rounds off a successful season, and completing it alongside my childhood idol Toni Bou means a lot for me. We had to give it everything to beat France, and that´s what we did in the Final. So now I hope to continue and improve my level next season."
FRANCE (2nd):
Benoit Bincaz: "I am happy even if in the Final we couldn´t keep up our level from the second lap, and we have been beaten by the Spanish team. Both Alex and I rode well. The Final was very demanding, so I have to congratulate Toni and Miquel for their victory."
Alexandre Ferrer: "The support of the public here in Nice was very important, and helped us to take the lead in Round Two. The Final, though, was harder and we couldn't keep up with the Spanish team."
GREAT BRITAIN (3rd):
James Dabill: "I´m happy with our riding, even if we couldn´t make it to the second place that was our objective. I would like to congratulate France on their results, particularly in Round Two."
Jack Price: "James rode very well, and I did what I could do to fight for a second position that we couldn´t get in the end. I am satisfied to have finished the X-Trial season on the podium."