---
---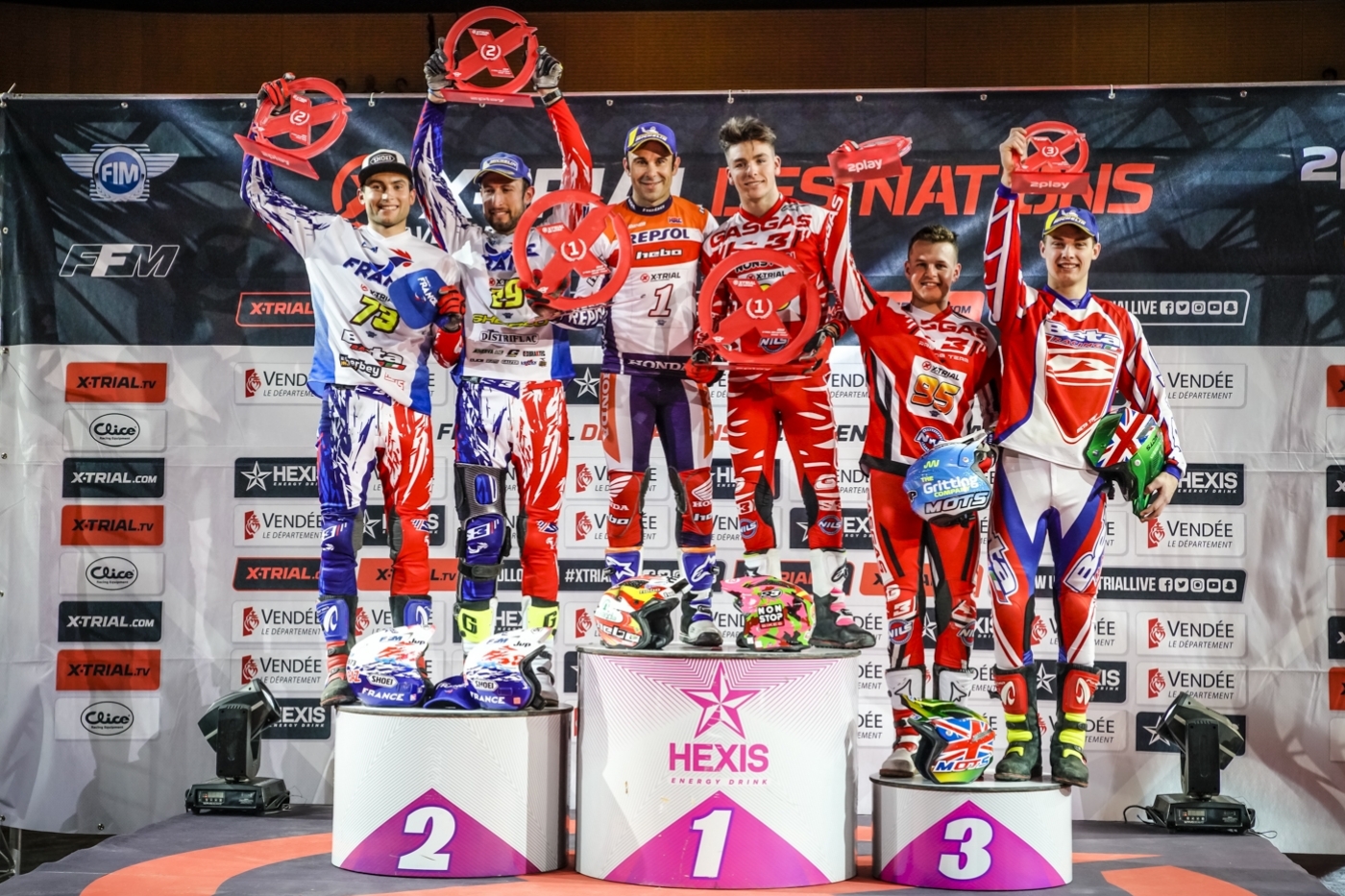 The pairing of Toni Bou and Jaime Busto continued Spain's unbeaten run in front of a capacity crowd at the Vendespace venue
Toni Bou (Repsol Montesa Honda) and Jaime Busto (Gas Gas) set the record for the biggest margin of victory in the history of the FIM X-Trial of Nations. The pair did not drop a single mark in the first two rounds of the contest while French pair Benoit Bincaz (Beta) and Alexandre Ferrer (Sherco) accumulated 12 marks as they joined them in the Final.
Bincaz was handicapped by a fall in the warm-up prior to the event which left him with bruising to his wrist and leg, but he performed well alongside Ferrer to take France to second place despite some late failures. Spain also suffered a couple of fiascos in the Final but won by 12 marks to 34.
British youngsters Jack Price (Gas Gas) and Toby Martyn (Beta) performed superbly, finishing just one point behind France after the first two rounds to just miss out on the Final. Martyn – on his X-Trial debut – and Price were two of the stars of the evening to take third for Great Britain for the second year running.
The Italian team of Luca Petrella (Beta) and Matteo Grattarola (Montesa) finished fourth despite completing round one a point ahead of Great Britain, largely thanks to a disappointing second lap for Petrella.
Norway returned to competition after seven years of absence and young Sondre Haga (TRRS) and veteran Hakon Pedersen (Gas Gas) had a hopeful first round but struggled badly on their second lap to finish in fifth place.
SPAIN (1st) Toni Bou: "It has been an extraordinary triumph because we had two superb rounds to start and the Final was more demanding. We endured the pressure of competing against France well, largely because we had an important points advantage starting the Final. Jaime rode to a great level and I think we have done a great job as a team."
Jaime Busto: "Competing with Toni is always exceptional and it possibly makes you feel less pressure. I think we have ridden to a high standard right from the start and have not left anything to chance. The atmosphere and the spectators have been extraordinary and they really recognised our great performance."
FRANCE (2nd) Benoit Bincaz: "Today was a difficult day for me because I fell in the warm-up and hit my hand and right leg badly. I gave everything tonight and we took second which is very important to the fans. Alex also rode brilliantly today."
Alexandre Ferrer: "We are satisfied with second place because Benoit was not feeling one hundred per cent. We gave everything to get into the Final and the fans helped us with their encouragement. We had a good performance, second place at home is a fine reward."
GREAT BRITAIN (3rd) Jack Price: "We are really happy because despite our inexperience we almost got into the Final. Keeping the third place that Great Britain got last year was a great goal and we achieved it, and Toby was great in his first X-Trial too."
Toby Martyn: "Everything was new to me tonight and I think my performance was good. I really enjoyed it all and would love to continue on the world stage. Both Jack and I are really pleased to keep Great Britain in third place."
The FIM X-Trial World Championship season comes to an end at X-Trial Andorra la Vella on April 27th. Buy your tickets now at www.x-trial.com