---
---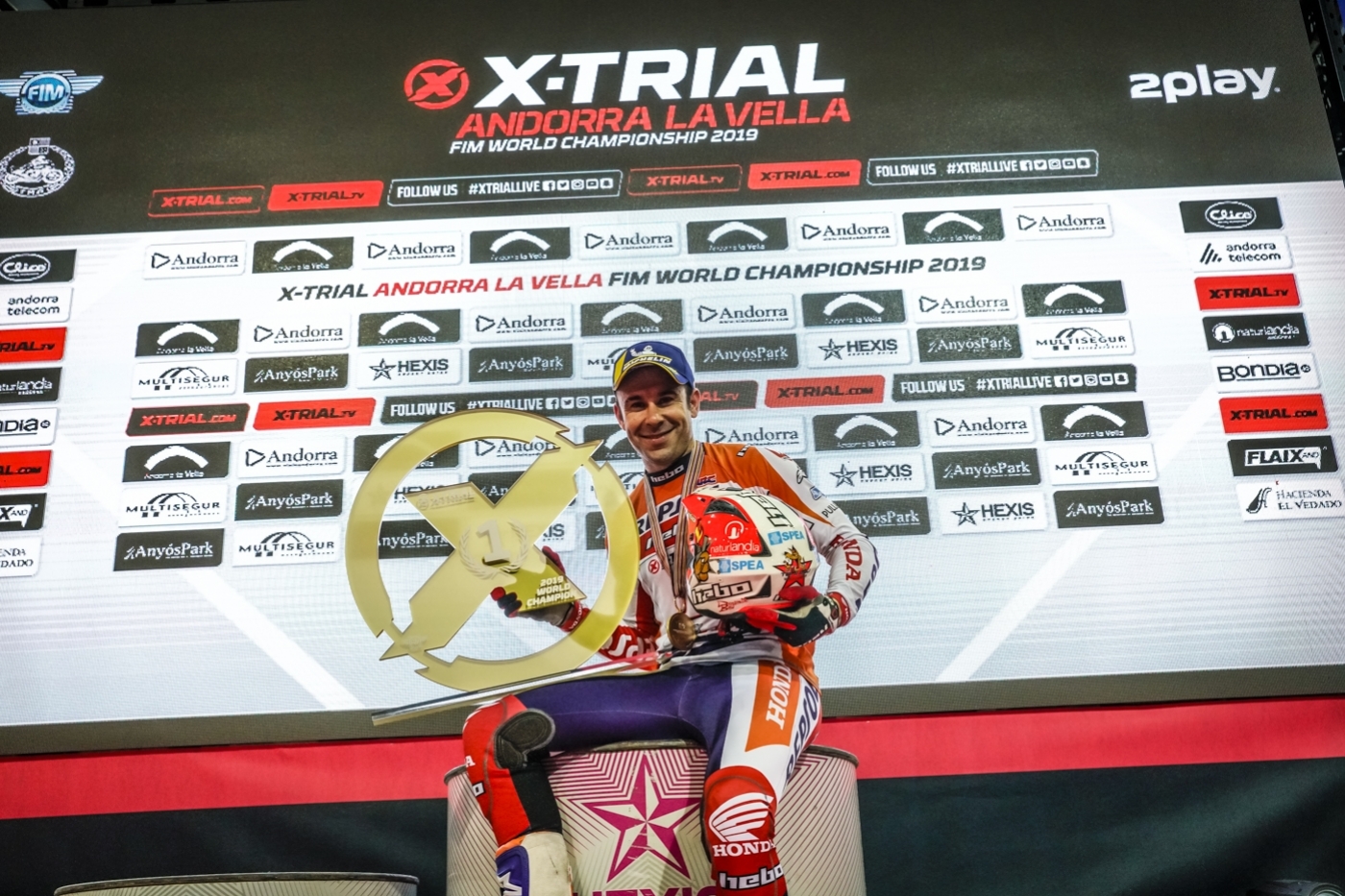 The 2019 season comes to a close in Andorra with Bou still on top
The latest X-Trial World Championship season closed in sensational fashion with the first-ever X-Trial Andorra la Vella providing plenty of action and surprises. A familiar name came out on top, though, Toni Bou (Repsol Montesa Honda) securing his fifth victory of the season and closing his thirteenth Championship-winning season in style.
In front of a pact crowd in the Poliesportiu d´Andorra Toni Bou put on a masterclass, finishing the entire night with just two dropped marks. One was conceded in the Final, decided before the last section with Adam Raga accruing a total of eleven. But Raga had been Bou´s closest competitor all evening, having himself dropped only five marks in Round One and four in the heat stages. Failures in Sections Two and Three proved critical for the TRRS rider, his second fiasco also leading to an injury concern that affected his performance around the remainder of the lap.
Jeroni Fajardo took an important third place finish in the context of the fight for 2019´s bronze medal. With his Gas Gas teammate Jaime Busto a shock eliminee in Round One, Fajardo only needed to progress to the Consolation Final to recover the world number three ranking, and he did so by a two-mark margin over Takahisa Fujinami. Fajardo ensured the first X-Trial Andorra la Vella podium matched the World Championship podium by defeating Jorge Casales (Vertigo) in a head-to-head Play-Off that went down to the final seconds. Casales nonetheless recorded his career best result with fourth position.
Benoit Bincaz missed out on a place in the Finals after dropping an errant mark in Section Five of the second Round, a result that also ended his hopes of contesting the bronze medal ranking for 2019. With Jorge Casales progressing from Heat One at the Frenchman´s expense and Takahisa Fujinami eliminated from Heat Two, Casales finishes the season seventh overall ahead of the Japanese veteran.
Mechanical problems after Section Three failures left Jaime Busto and Miquel Gelabert out of the action after the first lap, while Luca Petrella came agonisingly close to progressing to Round Two for the first time in his career but finished seventh.
X-Trial Andorra la Vella gave way to celebrations in honour of Toni Bou, who received his Championship-winning trophy flanked by 2019´s two other medallists.
Toni Bou (1st): "It was great. I rode at my best, which was important since errors were punished harshly here tonight. I also made sure that the public enjoyed the show, which at the first X-Trial I have ridden in my home here in Andorra was very important to me. There is no better way to close the season than with a spectacular event which the crowd has enjoyed."
Adam Raga (2nd): "This second place is a positive result given the complications of a landing from Section Three in which I hurt my left leg. Obviously the target is to win, but when you can´t win then second is all you can do, so this is a good end to the season."
Jeroni Fajardo (3rd): "This X-Trial got harder and harder with each passing Round. I´m delighted with this result since Jorge Casales made it difficult in the Consolation Final, but most of all because it was enough to beat Jaime Busto to third in the Championship."