---
---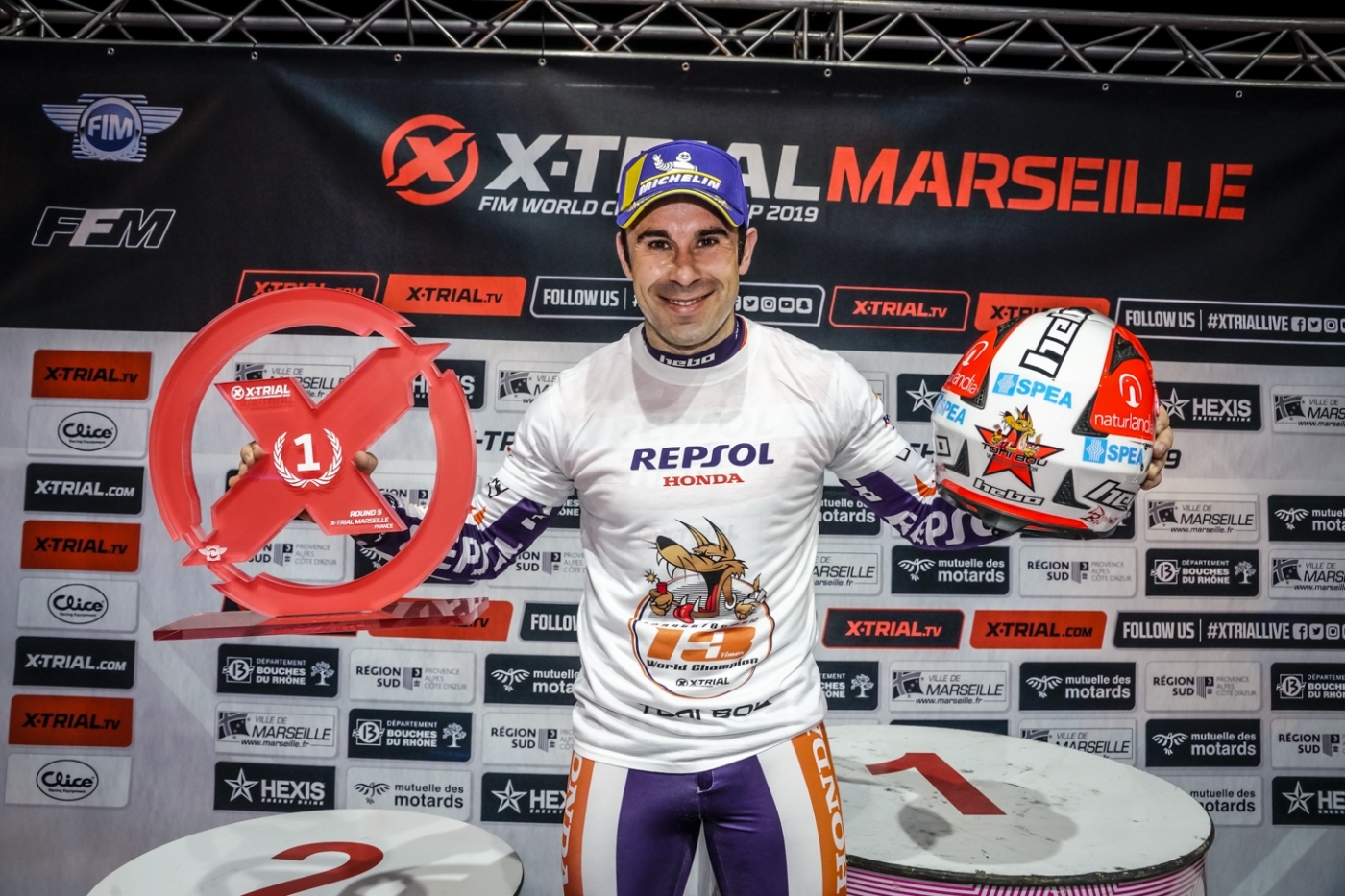 Toni Bou confirms his thirteenth World Championship title with victory in an extremely demanding X-Trial
Toni Bou (Repsol Montesa Honda) claimed his eighth X-Trial Marseille victory and with this 61st career success secured the 2019 X-Trial World Championship.
The route to his latest success was far from straightforward, though, as the most technically and physically demanding X-Trial to date produced a close-fought event with generally high scores. But Bou, after an underwhelming Round One in which he finished just fourth and having progressed from Round Two by a mere two-mark margin, steadied the ship with a dominant Grand Final performance.
Bou´s direct rival for victory in Marseille was Jeroni Fajardo (Gas Gas), who progressed from Heat One in sensational fashion by countback after he and Adam Raga (TRRS) were tied. But Fajardo was unable to complete any of the demanding Grand Final sections, and Bou already had victory on the night sewn up with a clean Section Five – his third completed section of the lap. Fajardo, though, could be satisfied with his best result since 2015, a runner-up position also moving him back into the fight for a world number three ranking ahead of the final 2019 Round.
Adam Raga, meanwhile, saw his fading Championship hopes extinguished for another year against Bou´s dominance, but it was Fajardo´s qualification at his expense that doomed the TRS rider. Raga could only keep the title fight alive by beating Bou in Marseille, so his victory in the third-place Play-Off was of little consolation, although it does also confirm that he retains his world number two status for another season.
Raga´s success in the Consolation Final was secured by four marks over Miquel Gelabert, who made it through as top qualifier from the opening Round but missed out in Heat Two against Toni Bou. Gelabert, though, did enough in a crucial Section Five to eliminate Jaime Busto (Gas Gas) and claim his best finish of the 2019 season so far. Home representative Benoit Bincaz was the other rider who failed to make the cut in Round Two, his four consecutive failures at the start of the lap ruling him out of further contention in fifth.
In a demanding X-Trial, the opening Round scores were inevitably high for the three nominated riders in Marseille. Téo Colairo (Gas Gas) put in plenty of efforts but failed to complete any of the sections on his debut, Luca Petrella (Beta) could only claim eighth on countback, and Alexandre Ferrer (Sherco) nursing a knee injury fell just three marks short of progression.
The return of X-Trial Marseille was witnessed live by 3,500 spectators, with an electric atmosphere in a stadium on this occasion 90% full.
Toni Bou (1st): "It´s been as demanding as it has enjoyable. This was my first chance to claim the Championship and I took it, even though it wasn´t easy. The sections meant we had to give our absolute best, and that meant the spectators enjoyed the show. But I was keen to claim the title here and avoid being under pressure in X-Trial Andorra, where there were will already be enough expectation as it is my home race. Now I know that we will be there to celebrate, and I hope to win in front of my fans to finish the season. This thirteenth title has been more complicated than some of the others, since my rivals have really pushed hard all season and I have never been able to relax. But I have gradually been improving and tonight has been the culmination of my hard work."
Jeroni Fajardo (2nd): "I´m really happy to be back in the Final and with second position. It´s been a very challenging X-Trial, and my first lap in particular wasn´t exactly inspiring. In the second Round I improved substantially, but I just couldn´t keep up with Toni who took a well-deserved victory in the Final."
Adam Raga (3rd): "It was a tough X-Trial right from the start, and I didn´t manage the time very well on the second lap, so ended up short on time and out of the Final. The atmosphere was incredible and the public really pushed us with their encouragement."
The next date on the X-Trial calendar will see another Champion declared as the riders head on to Vendée for the X-Trial of Nations on 13th April. Tickets are available at www.x-trial.com