---
---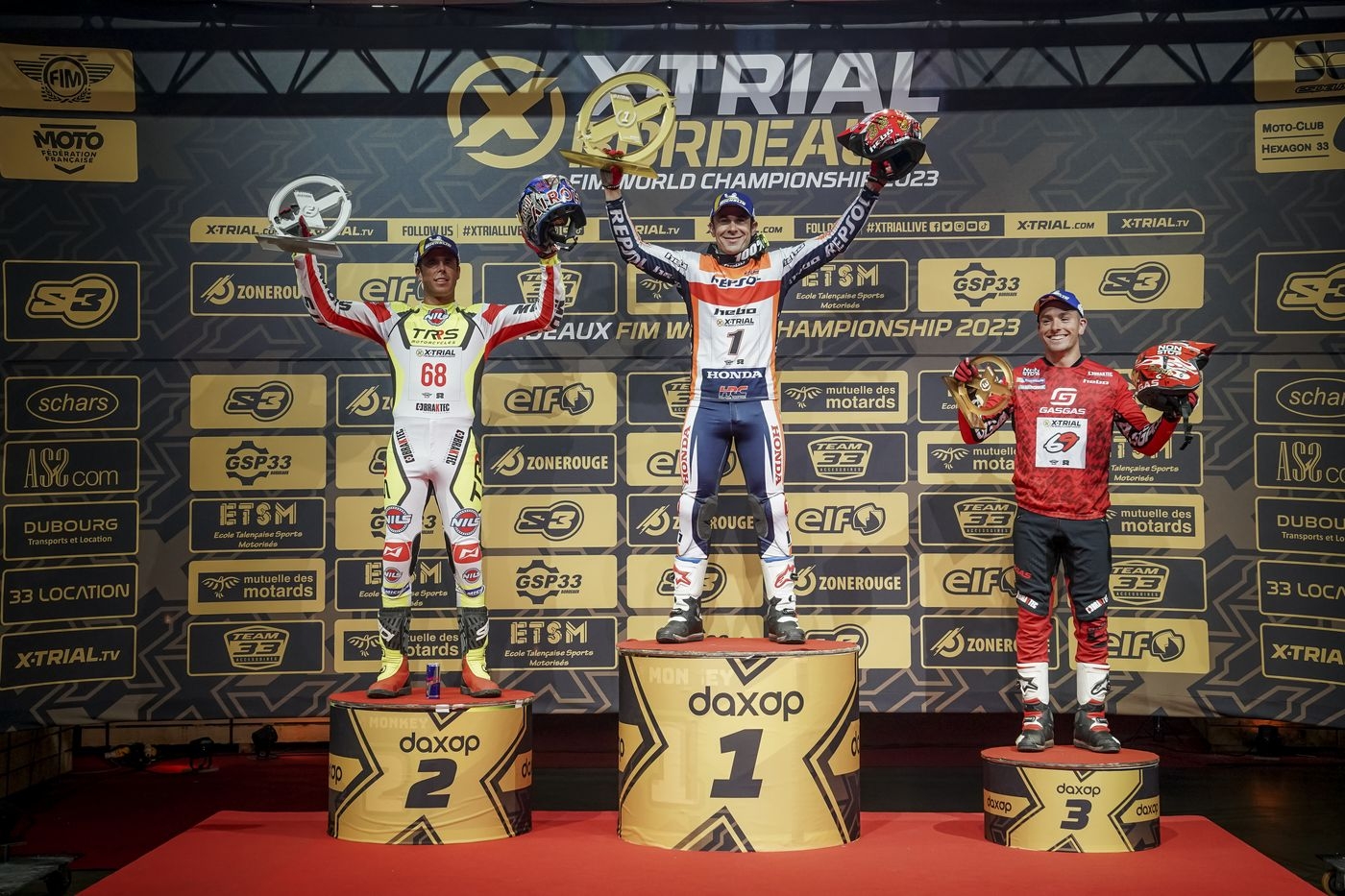 The reigning Champion extended his series lead after rival Jaime Busto was beaten by Adam Raga for second in a tie-break
Toni Bou (Repsol Honda Trial Team) claimed his third victory of the 2023 X-Trial season after securing X-Trial Bordeaux by a four-mark margin in his last ride of the night. A close-fought Final took the fight for second beyond the regular six-section course, with an additional run-off settled in favour of Adam Raga (TRRS) over Jaime Busto (GasGas) by a single mark.
Section Three of the Final proved key to Raga's best result of the season so far; he was the first rider clean to move a mark ahead of Busto for second, and level with Toni Bou. And although Bou took a mark out of Raga in each of the next two sections, Busto could only make one back in Section Five to force a tie. The Basque youngster's subsequent defeat in the tie-break Section means Bou establishes a 20-point Championship lead heading into the summer break.
It was a tough night, meanwhile, for Gabriel Marcelli (Repsol Honda Trial Team), as failures in the first two sections of his opening run left him outside of the top three places. A mere fifth place finish for him, his worst result thus far, combined with Raga's best, reduces the gap between the two rivals in the battle for bronze to just a single point.
Toby Martyn (Montesa), meanwhile, put in a superb performance, matching Adam Raga in Round One only to fall just two marks short of a place on the podium and take fourth. He opens an eight-point advantage in the Championship over Benoit Bincaz (Sherco) who failed to impress at his home Round with seventh.
Matteo Grattarola (Vertigo) looked much-improved in sixth, while Aniol Gelabert (Beta) finished his two runs just three marks behind him but down in eighth. Wild Card Sondre Haga (GasGas) never looked at ease and failed seven of the nine Sections to round out the finishers.
Toni Bou (1st): "It was a very demanding event in which I gradually improved, riding at a high level in the Final even if I started with a mistake in Section One. I am sure it was an exciting X-Trial for the spectators, but it was tense for us. Nonetheless, leading the Championship with three wins and a second heading into the summer break is great news for me."
Adam Raga (2nd): "Returning to the podium and just a day after my 41st birthday is brilliant. Perhaps in a couple of Sections here or there I might have been able to do a bit better, but I am happy with my score and position. Also, even in the X-Trials where I haven't made the podium I feel like I have been riding at a similarly high level."
Jaime Busto (3rd): "Again today I have ridden at a high level even allowing for a few small mistakes in the Final and the tie-break where I lost second place to Adam. But the main thing is to finish consistently on the podium which I haven't managed before this season."
The X-Trial World Championship passes its 2023 mid-season point but only returns after the summer break on the 7th October with X-Trial Andorra la Vella.