---
---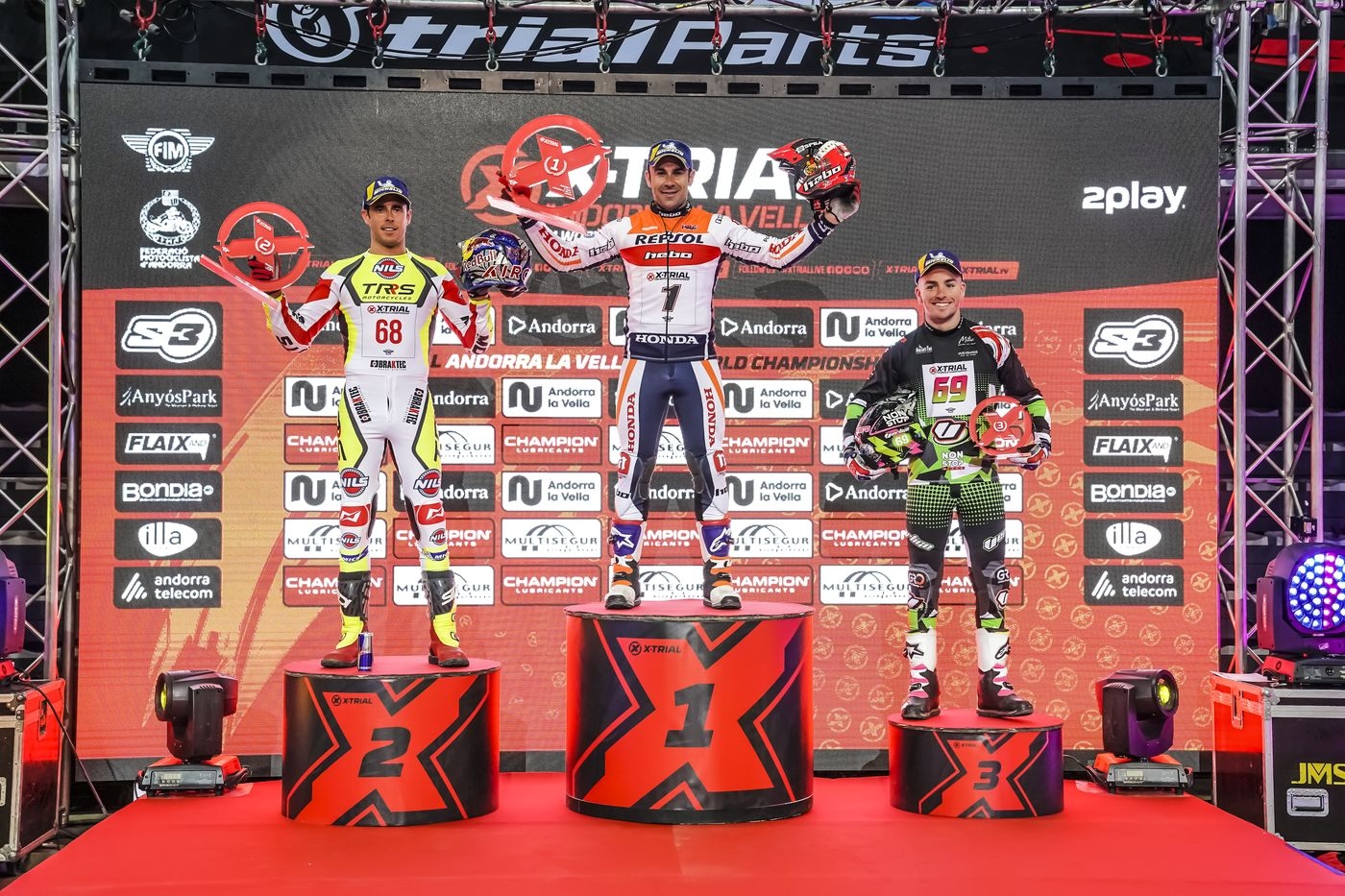 Toni Bou opens the 2021 season with his second win in the Andorran capital
Reigning X-Trial World Champion Toni Bou (Repsol Montesa-HRC) started the defence of his title with a stunning performance under the roof of the Poliesportiu d'Andorra to claim his 68th career victory.
Bou, relegated to just fourth in the preliminary stages of his home event, recovered from a nervous start and put in clean rides in both the Heat and Grand Final to seal his latest success with a section to spare and by an eleven-mark margin.
For the eighth consecutive X-Trial it was Adam Raga who finished second to Bou in the Final as he secured his 37th consecutive podium. On the night he passed Dougie Lampkin in the all-time appearance records with his 136th start, Raga matched Bou in Round One but could only finish second to him in the two subsequent laps. A disastrous failure in Section One of the Final set the tone for the decider, and six dropped marks in the last two sections left him on a score of eleven.
Jaime Busto (Vertigo) defeated Matteo Grattarola (Beta) in an entertaining third place Play-Off. Italy's Grattarola was one of the riders of the night in his first X-Trial appearance since December 2017, topping the opening Round by three marks ahead of Raga and Bou. But the Consolation Final proved one step too far as, after matching Busto in the opening Section, he failed in the tie-break. That ride left Busto with the eighth podium of his X-Trial career, his second with Vertigo and his first since La Réunion almost two years ago.
Reigning world number three Jeroni Fajardo (Sherco) was restricted to fifth position after saving just three marks in the first four sections of Heat Two. Meanwhile, Miquel Gelabert (Gas Gas) took no further part in the X-Trial after a spectacular crash in Section Two of Heat One, although thankfully he was able to walk away from the incident and claim sixth position.
Toni Bou (1st): "This victory has been great for me, both in terms of where we are [Andorra] and the way I have managed it. I was a little bit nervous in Round One but I didn't make any more mistakes, with zeroes in the following two Rounds. There is no better way to start the Championship, particularly after 20 months between X-Trial events. Making it into the Final was of course crucial in terms of the Championship, but both my riding and the result were ideal."
Adam Raga (2nd): "I'm satisfied to have started the season like this because it keeps my options open for the title in Barcelona. I rode very well throughout, but a mistake in the first section of the Final really left me with little chance of victory. The battle against the stopwatch, knowing I needed to do it in both directions, made me rush."
Jaime Busto (3rd): "This podium is a satisfactory result for me because I'm back on the podium and because I think it's a fair reflection of how good I feel on the bike. I'm in a good position to fight in Barcelona."
The remaining 2021 X-Trial World Championship Round is the famous X-Trial Barcelona, which takes place in the Palau Sant Jordi on 21st November.