---
---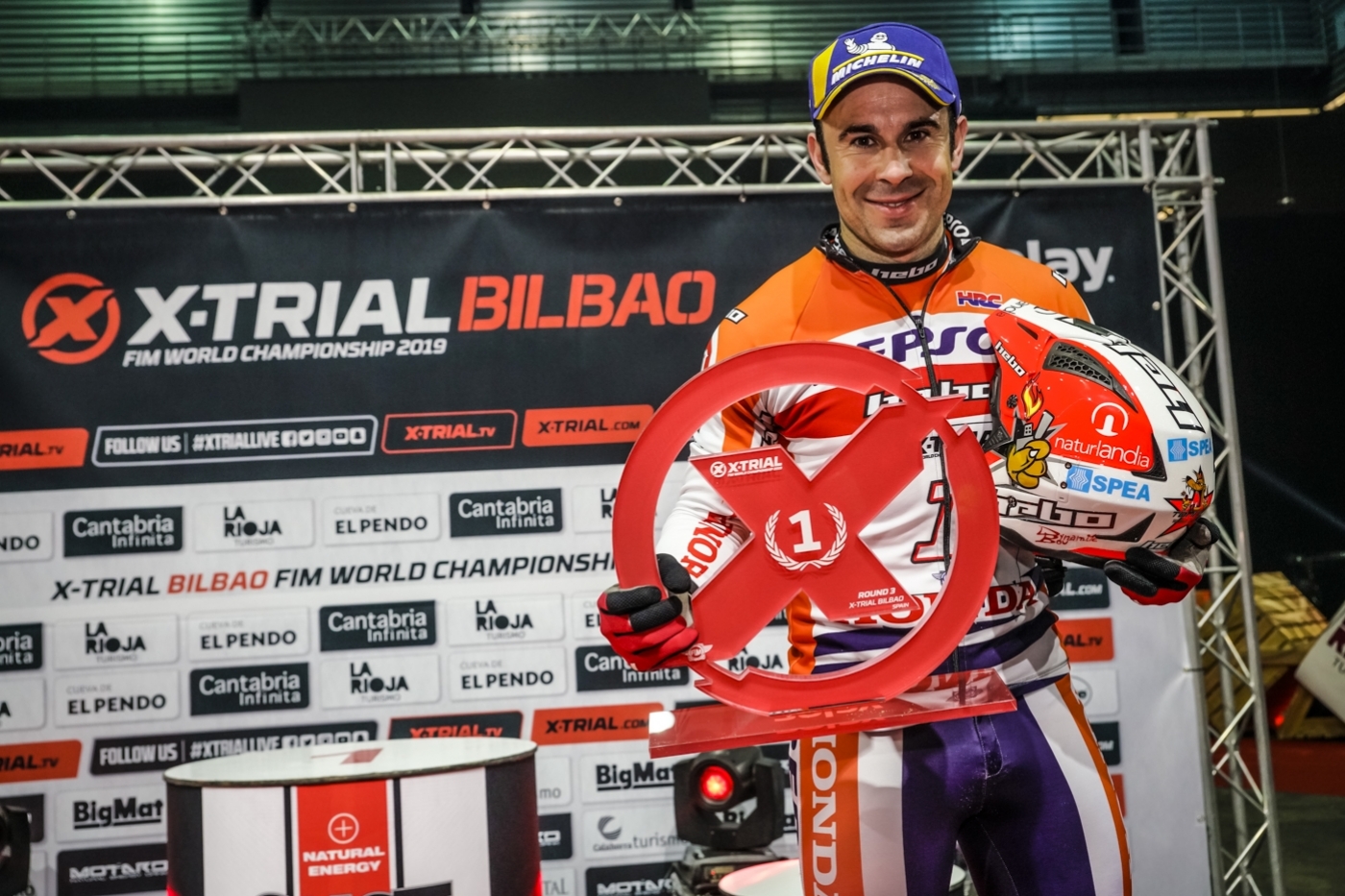 Toni Bou gets the better of Adam Raga in the last Section of the first-ever X-Trial Bilbao
Toni Bou (Repsol Montesa Honda) restored his Championship lead leaving Bilbao after a fine victory in another close-fought Final. Just as at X-Trial Barcelona two weeks ago the winner was only determined in the final section, in which the reigning Champion held on two a two-mark advantage over Adam Raga (TRRS) to secure his 59th career victory.
Barcelona winner Raga ensured another close-fought night, topping the Standings in Round One and matching Bou´s efforts in Round Two. But his rival snatched the early lead in the Final, making it through the challenging Section Two with a clean after Raga had recorded a five. The margin was further extended in Section Four, putting Bou within touching distance of victory, although he then failed in his bid to secure the trophy with a section to spare with a Section Five failure. Still two marks clear, Bou was left to hold his nerve to claim the win and with it the Championship lead.
Benoit Bincaz (Beta) put in one of the best rides of his career to date, finishing just two marks from a place in the Grand Final but securing a spot on the podium in the Consolation Final over local hero Jaime Busto (Gas Gas).
Busto´s teammate Jeroni Fajardo (Gas Gas) nonetheless drops behind him in the Championship Standings having managed an underwhelming sixth place finish, Miquel Gelabert beating his fellow countryman by a small margin after each had recorded three fiascos in Round Two.
Gabriel Marcelli was the pick of the group of three eliminated in Round One, Luca Petrella and debutant Sondre Haga also bowing out in the preliminary phase in front of almost 5,000 spectators.
Toni Bou (1st): "This victory is very important and has been hard-won, since Adam rode well throughout the night. As a result of my fall in Barcelona I haven´t been able to train how I might have liked, so that makes this win even more special. It also means I re-take the lead of the Championship, which is very important when things are so close."
Adam Raga (2nd): "I´m happy with second place, but especially with my riding, because I beat Toni in Round One, was tied with him in Round Two and only lost in the Final by two marks. I am riding well, and today is more evidence of it. The spectators were exceptional for this first visit to Bilbao."
Benoit Bincaz (3rd): "I felt strong right from the beginning and kept a high level. It´s my first podium of the season, and the aim is now to repeat it in the coming Rounds. The bike was perfect and I felt comfortable on it. I´m really happy with my performance here and the upward curve in performance I´m enjoying.
Round Four of the X-Trial FIM World Championship is X-Trial Granada, scheduled for 23rd February. Tickets are available at www.x-trial.com