---
---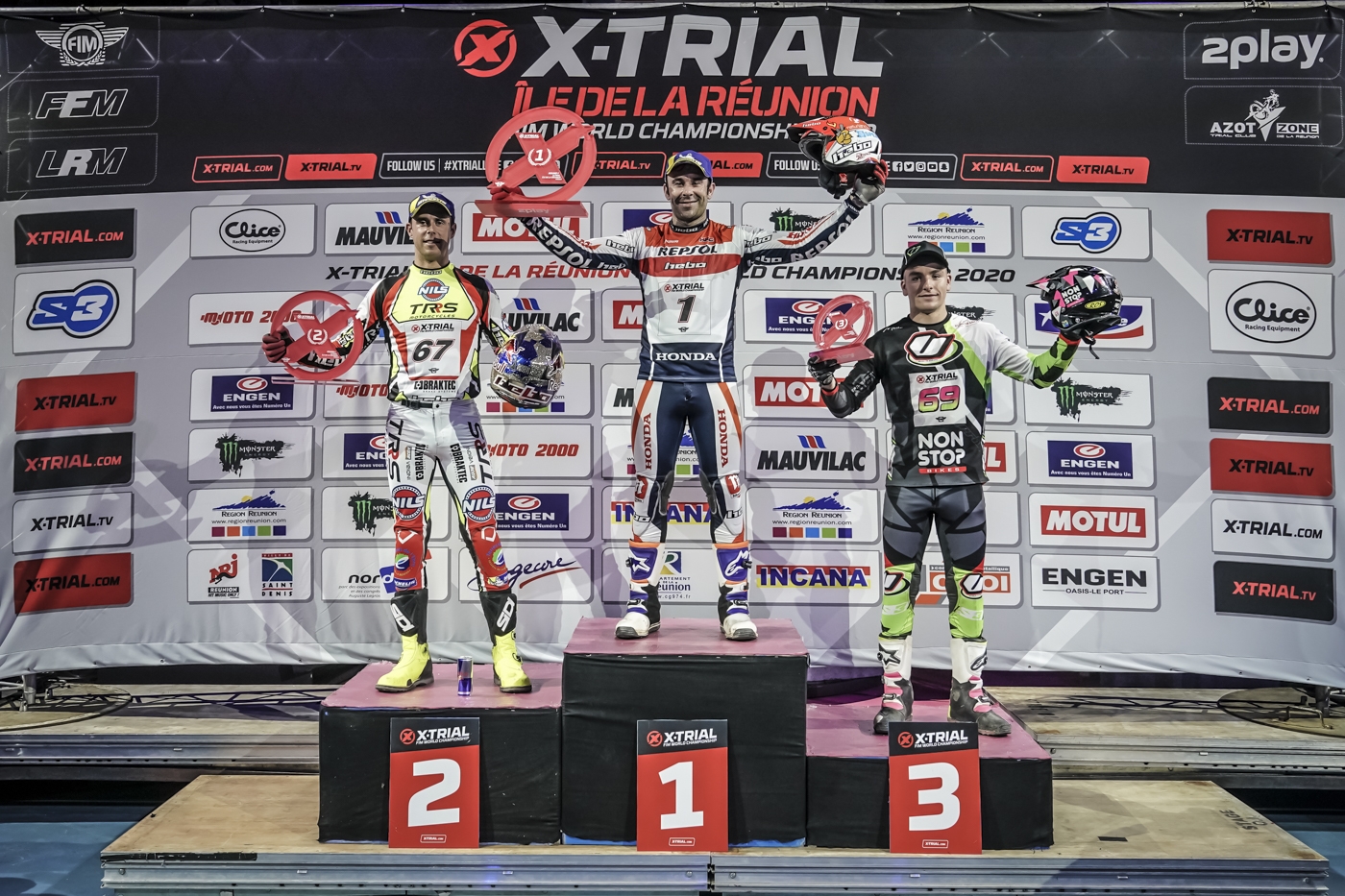 The World Champion prevailed in a tough X-Trial Réunion, with Raga second and Busto third
Toni Bou (Repsol Honda) started the defence of his FIM X-Trial World Championship in the best possible way with victory at the Stade Jean Ivoula de Sant-Denis on Réunion Island.
More than 3,500 spectators enjoyed a spectacular and very demanding course that put all eight riders to the test with some Sections which nobody was able to overcome with a zero score.
Having already topped the first and second Rounds of the contest, Bou met current World number 2 Adam Raga (TRRS) in the Final, which was decided when Raga picked up five-point scores on three of the six Sections leaving Bou with an unassailable lead.
Third place on the podium was contested between Vertigo's two new signings, Jaime Busto and Miquel Gelabert. Busto took the place picking up two marks on the single Section play-off, while Gelabert scored five after just exceeding the one minute time limit.
Jorge Casales took fifth overall on his debut for Gas Gas ahead of young Gabriel Marcelli (Montesa) whose debut as a permanent rider saw him in third place after Round One but he then scored a maximum 25 marks in his second Round heat.
Both French riders present were eliminated in Round One. Kieran Touly (Scorpa) scored a maximum on his X-Trial debut while Benoit Bincaz (Beta) struggled with an ankle injury and fell on his first two Sections, missing the cut by a single mark.
Toni Bou (1st): "Undoubtedly, this is the best way to start the season: with a win. In the first two rounds I have already driven touching perfection and in the final I have continued along the same line. It has been a difficult and very demanding test with the piloting as evidenced by the scores. On the other hand, the public of La Reunion has had a great time with the competition and the show. Therefore, the balance is unbeatable."
Adam Raga (2nd): "I am happy with today's result. I made some mistakes in the final, but I drove very well in the first and second round. It has been a really difficult test since the areas had a very high level and we have suffered to overcome some of them. The balance of this first round of the Championship is positive."
Jaime Busto (3rd): "It has been a good way to start the season since starting with a podium is always positive. It is true that today has not been one of my best days on the bike, but hey, we will continue fighting hard to be as close as possible to the ones in front and stronger for the next test."
The second round of the FIM X-Trial World Championship will be held on November 23 at the Glaz Arena in Rennes, France. Do not miss it at www.x-trial.tv
.