---
---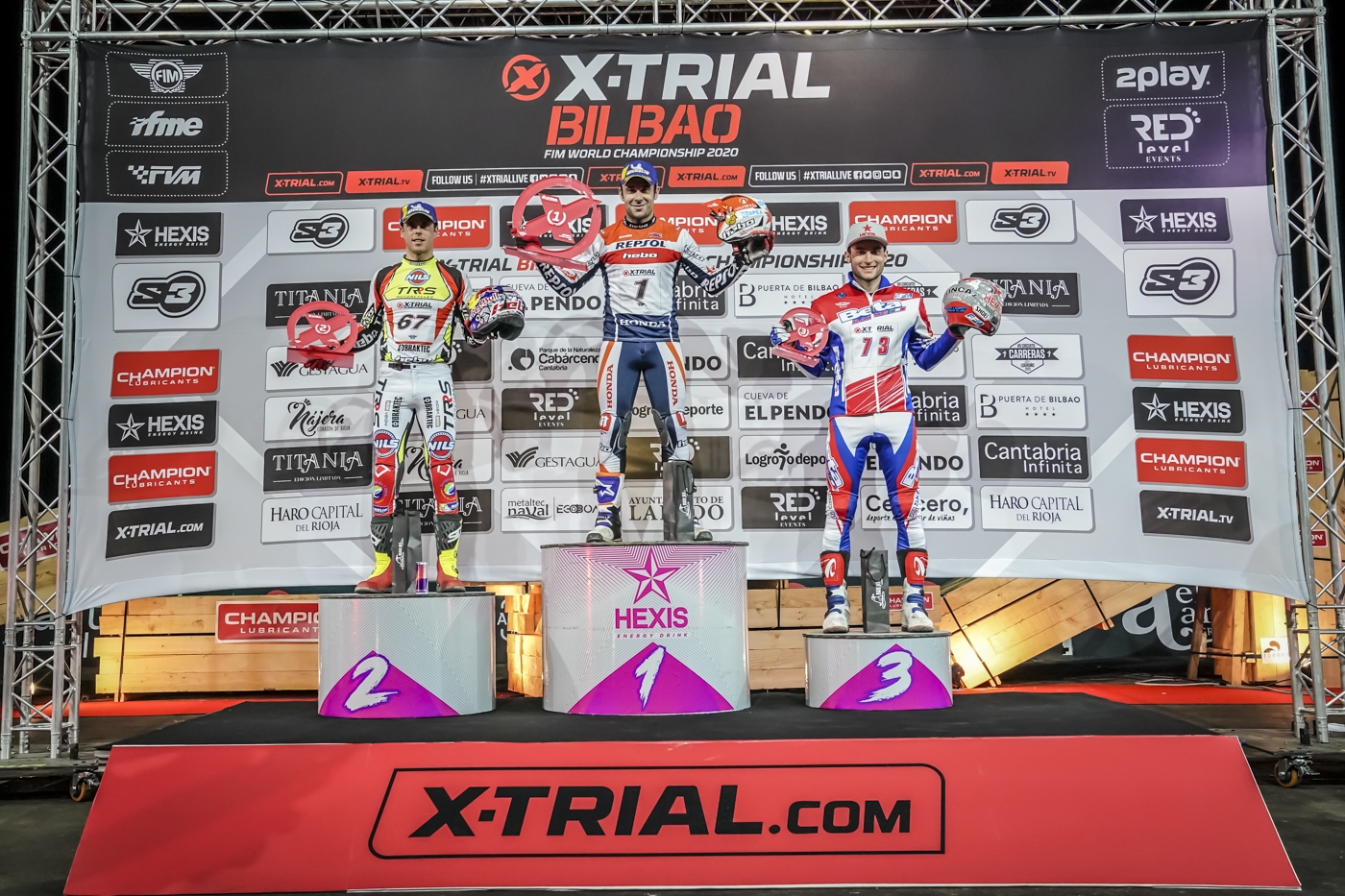 Adam Raga took Toni Bou to the final section before losing a close-fought Final
Toni Bou (Repsol Honda) claimed his fifth victory of the campaign in an X-Trial Bilbao that was spectacular, exciting and close-fought right to the last. For the third Round in succession, rival Adam Raga (TRRS) took the X-Trial to a decisive Final Section.
Raga put in his best performances in the opening two Rounds, getting the better of Bou by four marks in the preliminary phase then three during the Heats. But the pendulum swung back to Bou in the Final, when Raga suffered the first fiasco of the lap and dropped four marks behind. Bou survived a scare in tge penultimate Section, falling heavily with the bike following him to the ground, when Raga also failed the hazard.
A newly inspired Benoit Bincaz (Beta) followed up his fourth place in X-Trial Barcelona with a first podium of the 2020 season, ironically at the venue where he scored his last podium in 2019. The Frenchman finished Round One in third place and, although he struggled slightly in the Heat stages, pipped Jeroni Fajardo (Sherco) by a single mark in the Consolation Final.
Fajardo crucially got the better of Jorge Casales (Gas Gas) to secure qualification to X-Trial Wiener Neustadt, his fourth place in Bilbao and the absence of Jaime Busto giving him the upper hand in the race for bronze. Gabriel Marcelli (Montesa) pushed Fajardo all the way in Heat Two but missed out on countback with Fajardo posting the faster time.
Meanwhile Wild Card Toby Martyn (TRRS) and Miquel Gelabert, substituting for injured teammate Jaime Busto, failed to capitalise on their opportunity to shine as they were eliminated in Round One.
Toni Bou (1st): "It was a really demanding X-Trial right to the end and that makes this fifth victory of the season even sweeter. In the Final I probably took too many risks in some areas so I ended up suffering more than I needed to. But this season has been really competitive, Adam is riding really well, so this victory is really important as it leaves me in a great position to fight for the title."
Adam Raga (2nd): "I was first in each of the first two Rounds so I've been really competitive. In a really difficult and physical Final I find the going a little tougher, but I was still in contention. I'm satisfied with this second place and to be putting Toni under so much pressure at every Round."
Benoit Bincaz (3rd): "I am very happy with my first podium of the season considering I started it injured. I am riding at a high level at the moment and I hope this isn't the last podium of my season. I'm pleased to have made it onto the podium here again, X-Trial Bilbao has again been very demanding."
The next Round of the FIM X-Trial World Championship takes place on 21st March in Wiener Neustadt's Arena Nova. Follow all of the action live plus re-live the first four events of the 2020 campaign and more at www.x-trial.tv