---
---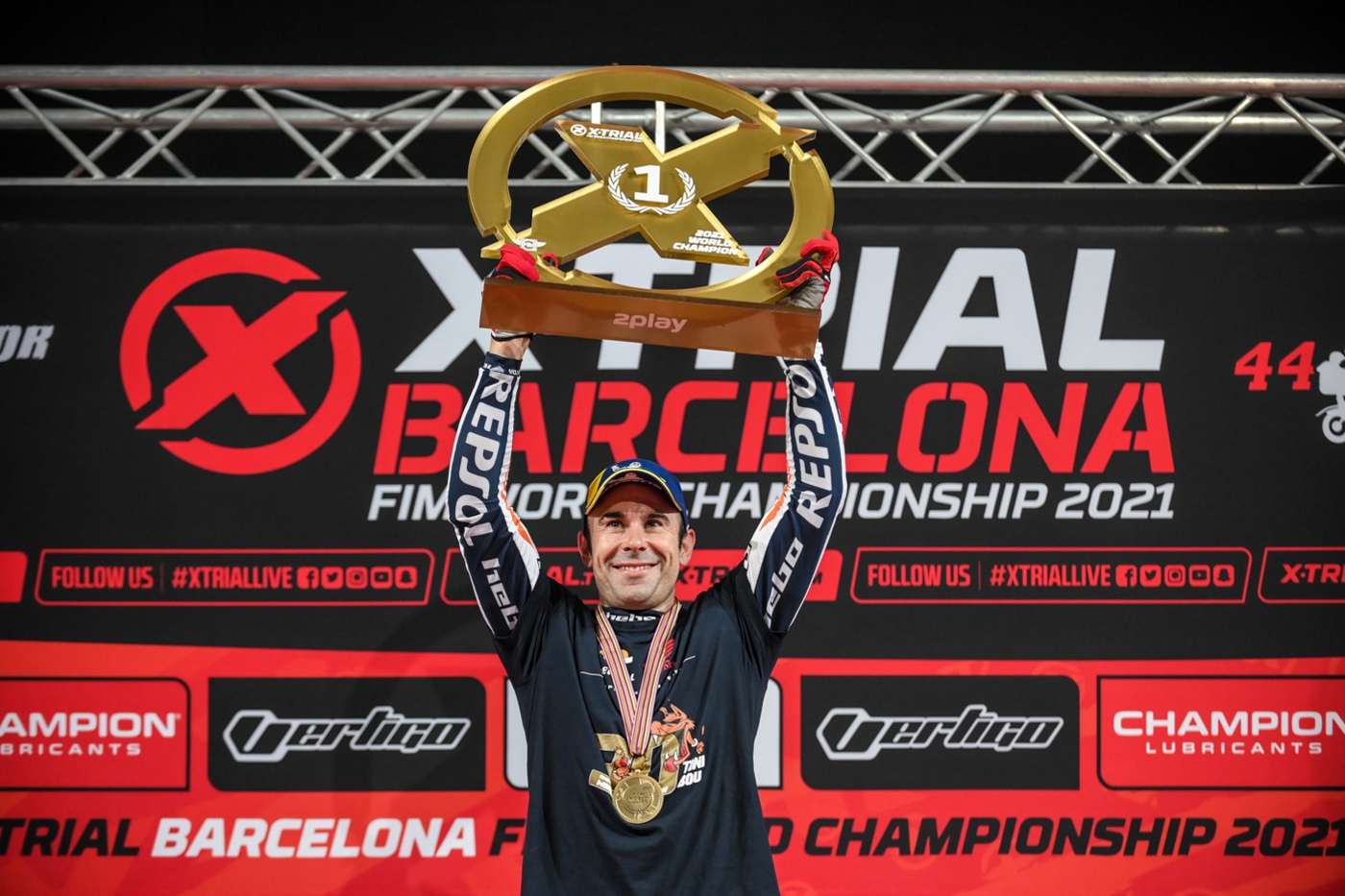 Toni Bou achieved his 15th world title with victory in the "Cathedral of X-Trial" against surprise package Gabriel Marcelli
Toni Bou (Repsol Montesa-HRC) extended his legendary status by taking his 15th consecutive X-Trial World Championship title, taking the crown somewhere he never had before, the X-Trial of Barcelona, in front of 6,100 spectators at the Palau Sant Jordi.
The World Champion took his 14th victory in Barcelona by beating his team mate Gabriel Marcelli (Montesa) in the final after starting with a five-mark maximum in Round One, finishing on top in Round Two and beating Marcelli by 11 marks in the Grand Final.
Marcelli achieved by far the best result of his career, defeating Andorra la Vella third place man Jaime Busto (Vertigo) in Round Two. The Basque rider then battled for third place with Adam Raga (TRRS) who broke the record for most appearances at X-Trial Barcelona with his 20th participation in the event. Raga took third in Round One but was beaten by five marks by Bou in round two, which sealed the World Championship for Bou ahead of Raga and Busto in the final standings.
Miquel Gelabert (Gas Gas) and Matteo Grattarola (Beta) were eliminated in the second Round. The Italian, who was fourth in Andorra la Vella, finished third in his heat as did Gelabert who finished just two points behind Raga.
Jorge Casales (Gas Gas), Toby Martyn (TRRS) and Jeroni Fajardo (Sherco) were eliminated in the first Round.
Toni Bou (1st): "It was fantastic to take the victory and the title in Barcelona, ??the Cathedral of the X-Trial. I started a bit stiffly in the first Round, but I recovered quickly to come out on top in the second Round and win the final. Winning here, in front of my home crowd, my family and friends, is exceptional and, moreover, it is the first time that I have been crowned World Champion in Barcelona. I am very happy with my 15th world title and to have won both events."
Gabriel Marcelli (2nd): "I am very happy with such an exceptional result. I felt comfortable throughout the event and I tried to concentrate as much as possible at all times. Last season I was not at my best level and this is the best way to make amends. I have achieved the best result of my career and doing so in Barcelona is especially exciting."
Adam Raga (3rd): "My goal was to win the Trial and take the title but it was not to be. When I finished third in the first Round, it put me in the same group as Toni for Round Two and I couldn't quite get to the final. It was a demanding Trial in the first two Rounds and a little easier in the rest. Finishing runner-up in the World Championship for the ninth time is an important enough achievement for me because it means I am still at the highest level despite being the oldest rider in the Championship."