---
---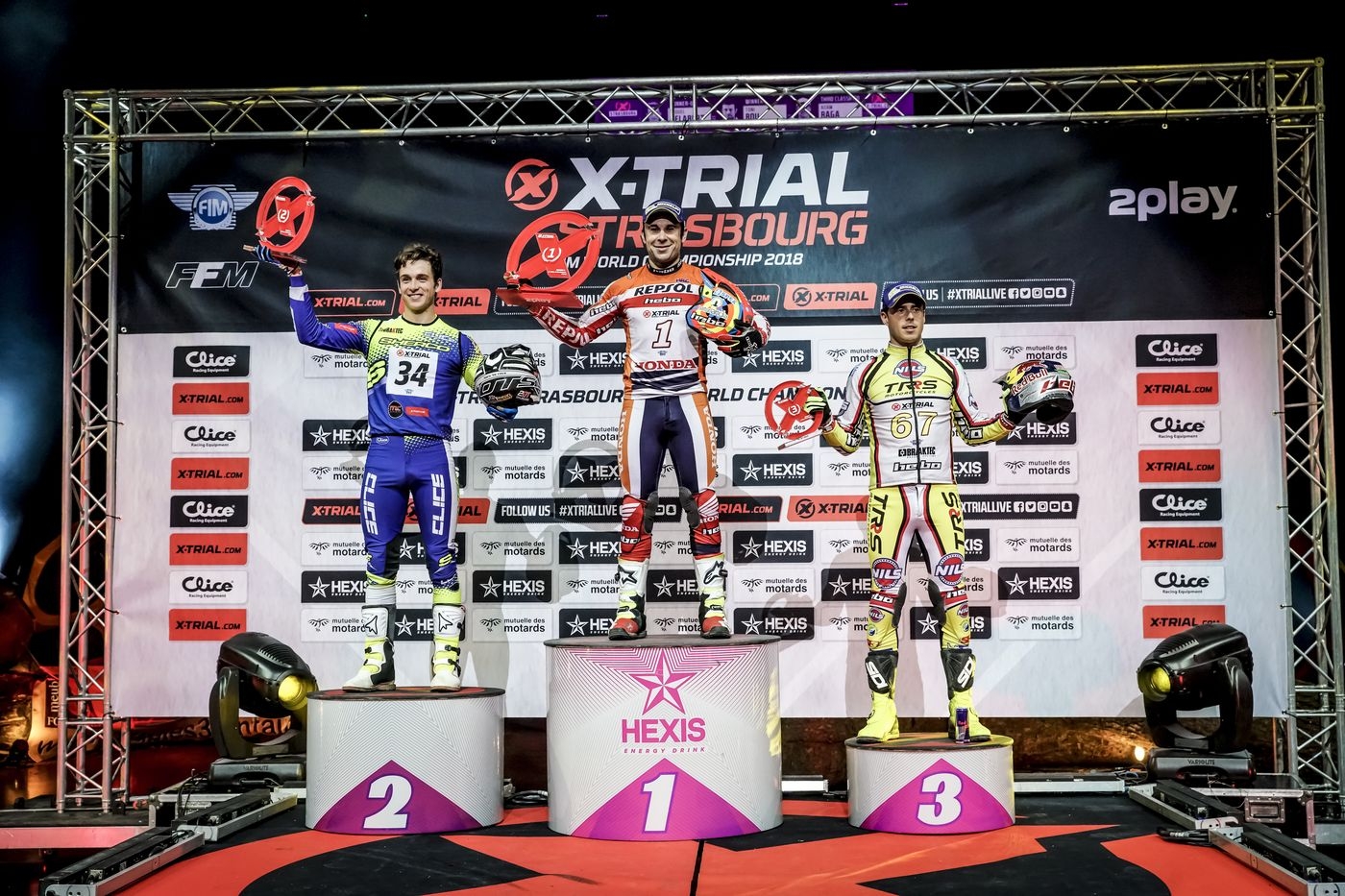 Toni Bou took his fourth consecutive victory of the 2018 X-Trial Championship in Strasbourg, with Miquel Gelabert making his first podium appearance
Reigning Word Champion Toni Bou took yet another X-trial victory, this time in front of 4,800 spectators as the series reached its half-way mark in Strasbourg.
The Repsol Montesa Honda rider, who finished top in each of the three stages of competition, faced a new rival in the final with Sherco youngster Miquel Gelabert progressing and as such also securing his first trip to the X-Trial World Championship podium.
Bou was forced to work harder than he has become accustomed to in the second round of heats, meeting Adam Raga after the TRS rider qualified just fourth in the first round. With only the top performer from each heat progressing, 11-times World Champion Bou eliminated Raga by just a single-mark margin and passed to the head-to-head Final.
From there, Bou was the dominant force, taking an advantage right from the opening section. But despite defeat, Gelabert became the sixth different rider onto the podium, in a season that has provided plenty of excitement involving new and less experienced riders.
The young Spaniard did well to qualify from the first heat of the second round, where the three contenders were separated by just a single mark. Meanwhile in Heat Two, Benoit Bincaz (Scorpa) out-performed Jeroni Fajardo (Gas Gas) and Miquel Gelabert from Heat One and took fourth position.
Great Britain´s Jack Price (Gas Gas) and James Dabill (Beta) were both eliminated in the opening round for the second successive event, while Franz Kadlec also failed to progress in his first X-Trial appearance in this new era.
Toni Bou (1st): "I´m very satisfied with this season´s fourth consecutive victory because it was very demanding, particularly in the second round where I could only beat Adam by one point. I didn´t train all week so that I could recover physically, and I certainly feel somewhat better, but I was still exhausted after the second round and in the Final I had to push hard right from the start to guarantee this win that consolidates my position in the Championship."
Miquel Gelabert (2nd): "I´m over the moon with this first X-Trial podium and I would like to dedicate it to my family and to the team. My development is going well and I am quickly moving forward, which shows we are working well, particularly in such demanding events as this one."
Adam Raga (3rd): "The most important thing about today for me is taking another podium position. It was a bit of a shame that I finished only one mark from Toni in the second round but couldn´t take part in the Final. But that´s how the rules are, even if I am not quite liking them."
The X-Trial series now moves from France and on to Barcelona, where the best riders in the world will meet on Sunday 4th February to dispute the fifth round of the Championship.