---
---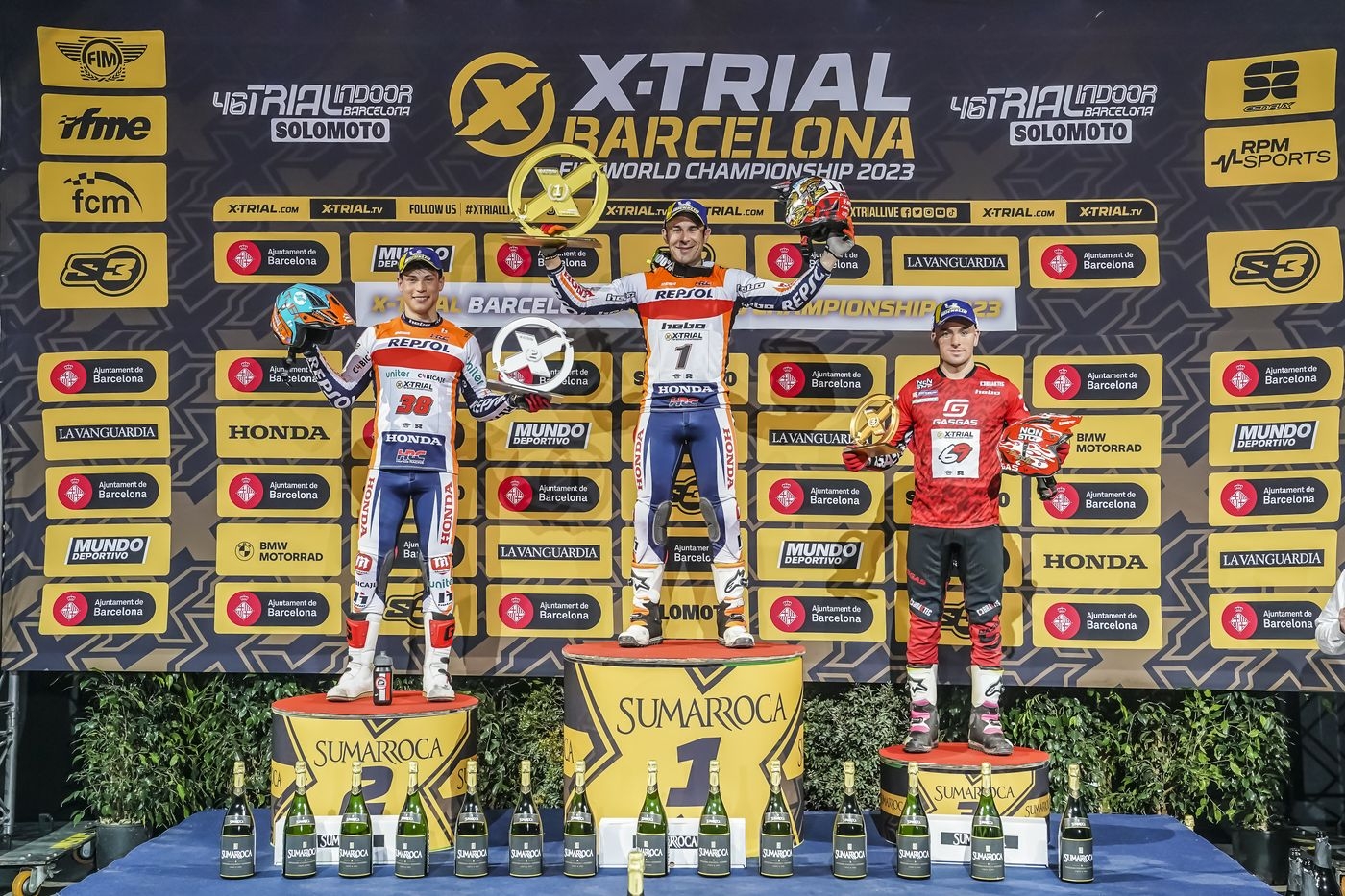 The reigning Champion claims his sixteenth X-Trial Barcelona win
Toni Bou (Repsol Honda Trial Team) celebrated a century of X-Trial World Championship appearances with his 74th win and a near-perfect start to the 2023 season.
Bou was made to wait until the final section of the night to take his sixteenth win in the Catalan capital, where Jaime Busto (GasGas) made a critical error that allowed Gabriel Marcelli to steal second and a 1-2 finish for Repsol Honda.
The biggest story of the opening two Rounds was the elimination of Adam Raga, ending his run of 43 consecutive podiums in a run that stretched back to Sheffield 2014.
Section One proved decisive, helping Jaime Busto to victory in Round One and the first World Championship bonus point. Meanwhile Toni Bou was left in a three-way tie for third at the end of the opening Round after his first failure there, but a lap later a single mark score saw him through to the Final and with his first series bonus point as top seed from Round Two. Gabriel Marcelli also made his second ride count; after suffering with injury woes and a flat tyre in his opening outing, a superb 2-mark second lap sent him through to the Final alongside his teammate.
Behind, Jeroni Fajardo marked his return to the World Championship with fifth as a Wild Card, finishing a single mark ahead of Benoit Bincaz and Toby Martyn, with the Frenchman getting the verdict for sixth thanks to his superior Round Two performance. Sondre Haga (GasGas) took eighth ahead of Matteo Grattarola, the Italian visibly struggling with injury on his Vertigo debut.
Toni Bou (1st): "This is the best way to start the defence of my title, especially at home in front of the Barcelona crowd. Things got better and better because I started with a five in a Section One that was really decisive. Thankfully in the Final I rode at a very high level, and the team's great work has its result."
Gabriel Marcelli (2nd): "Opening the season on the podium is great, especially considering that I strained my right leg injury in the first section, which could have been really costly. In the second Round I made a big step forward that sent me into the Final. It is great to be back on the podium here in Barcelona and now the target is consistency."
Jaime Busto (3rd): "I am satisfied with this opening podium. I felt really good on the bike in my first official outing with Gas Gas and I started very well, winning the first Round. In the second Round things were a little tougher, but enough to make the Final. And making the podium is the main thing."
Meanwhile in the Barcelona Women's Trophy, Emma Bristow (Sherco) took her third win ahead of Naomi Monnier (Gas Gas) and Berta Abellán (Scorpa) who finished six marks behind.
The FIM X-Trial World Championship next heads to Wiener Neustadt on 11th March.