Constructed for the 1992 Olympic Games in Barcelona on the mountain of Montjuïc, the Palau Sant Jordi has since been the home of the Barcelona X-Trial round, and with a seated capacity of 16,159 spectators is considered an architectural jewel, for its spectacular design and technical features.
During the Olympic Games, it was the primary indoor venue, home to Artistic Gymnastics, the Finales of the Handball, the Quarter Finals, Semi Finals and Finals in Men's Volleyball, and the Semi Finals and Final of the Women's Volleyball. It was also the base for the Paralympic Games in Barcelona.
Year after year, the Palau has been the scene of some of the most exciting duels between the world's best X-Trial riders, and has also hosted the World Indoor Athletics Championship, the final stage of the European Basketball Championship, two Euroleague Semi Finals, two Davis Cup Finals, two World Swimming Championships, the 2014 Basketball World Cup, and various NBA friendlies.
Artists such as Bruce Springsteen, U2, Queen, Iron Maiden, Coldplay, Shakira, Madonna, Lady Gaga, Rihanna y Elton John have all performed on-stage in the Palau.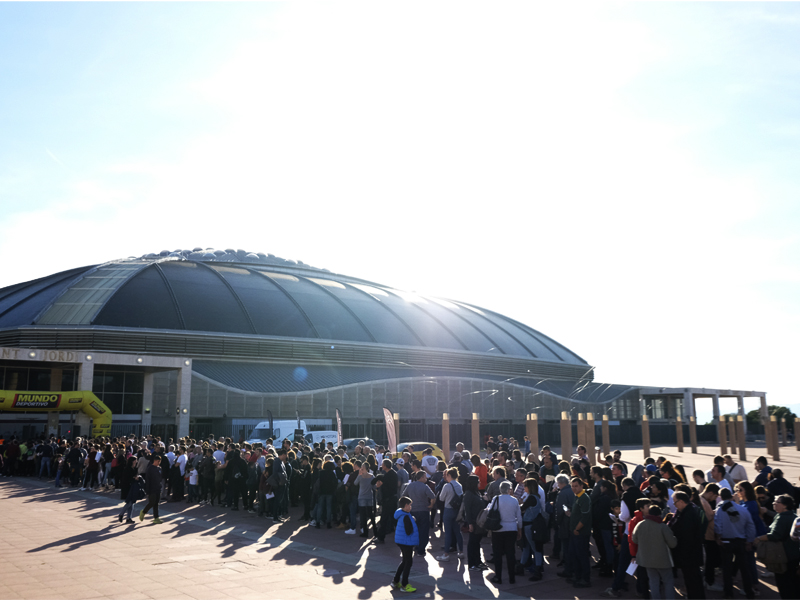 How to get there
Palau Sant Jordi
Passeig OlÝmpic, 5-7
08038 Barcelona
Spain
Tel. (+34) 93 426 20 89
BY CAR
If you are coming in your own car, we recommend reaching Palau Sant Jordi via Carrer del Foc. There is plenty of parking available in the area.
GPS Co-Ordinates:
41.363485, 2.152609
BY TRAIN
Metro: L1 and L3 (Pl. Espanya)
FGC: L8, S33, S4, S8, R5, R50, R6, R60.
BY BUS The buses that stop in Plaça Espanya and go up to the Olympic Ring are:
150: from Plaça Espanya/Mª Cristina, stopping at Avinguda de l'Estadi
13: from Plaça Espanya, stopping at the Olympic Stadium
55: from C/Lleida - Avinguda Paral·lel, stopping at Avinguda de l'Estadi/Passeig Olímpic
Buses to Pl. Espanya: 9, 27, 37, 50, 65, 79, 109, 165, D20, H12, V7 Bus Turístic and Barcelona City Tour.
MONTJUÏC FUNICULAR
Connects with metro lines L3 and L2. It is a 10-15 minute walk to the arena.
ON FOOT
The Olympic Ring can be reached from Plaça Espanya, taking the escalators from Avinguda Maria Cristina to Avinguda de l'Estadi.