---
---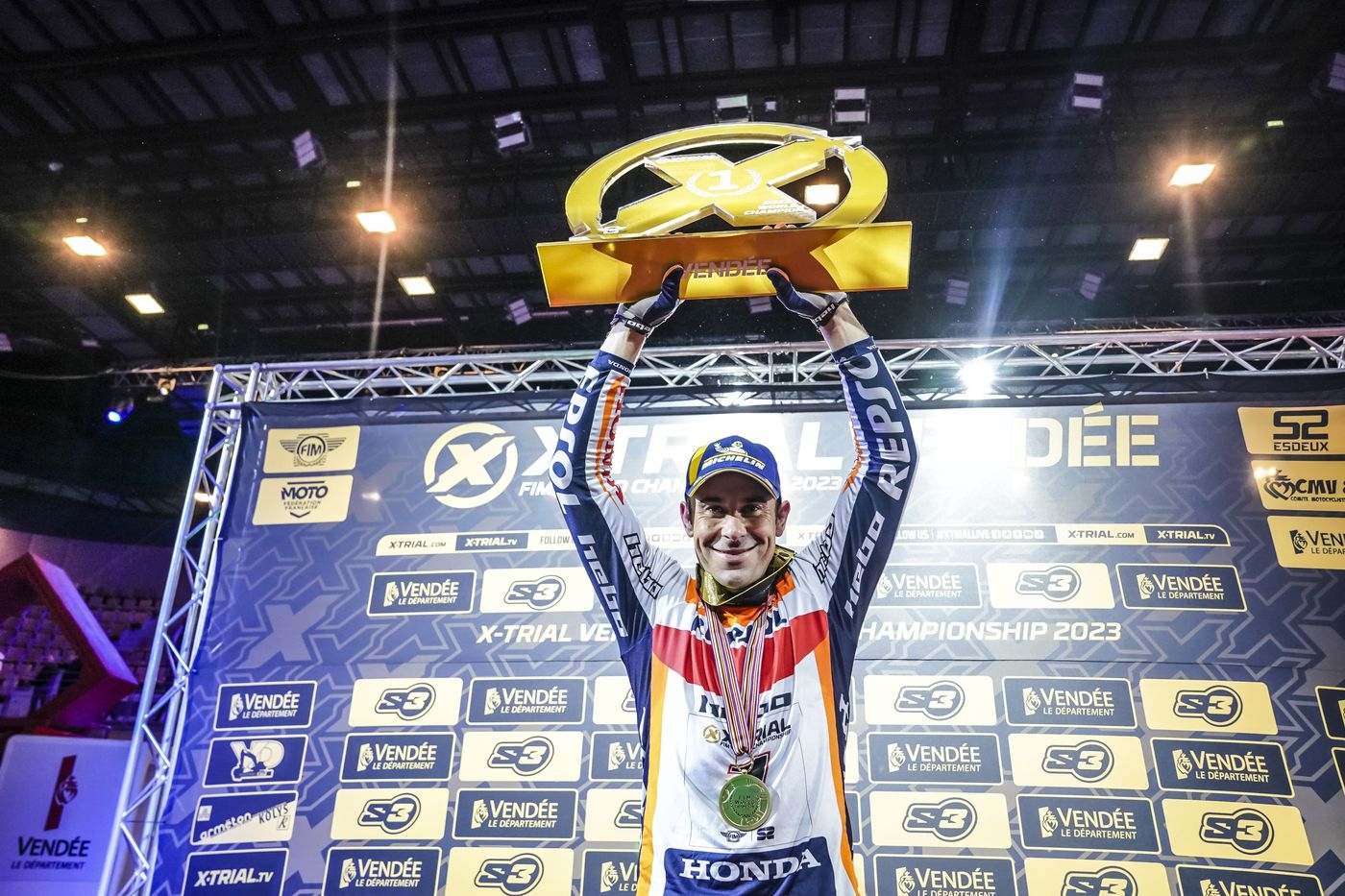 The World Champion beats Marcelli after going to a close-fought tie-break
Toni Bou (Repsol Honda Trial Team) closed the 2023 season with his sixth victory of a season in which he has claimed a seventeenth world title. But his win at X-Trial Vendée was the most challenging yet, as he was pushed all the way to a tie-break.
Just as at X-Trial Madrid a week ago, Toni Bou's teammate Gabriel Marcelli was his biggest rival for the win, and this time he managed to match Bou's score through the six Grand Final sections. In a tense end to the night, the pair were tied from the end of section four onwards, both failing Section Five and making it through Section Six with a single mark apiece.
In the run-off itself, Marcelli tallied three marks and Bou just one. And Bou, who had already topped the leaderboard in each of the opening two Rounds, took home a maximum score.
Jaime Busto (GasGas) also led the final at one stage, a clean in the opening Section giving him a single-mark advantage over Bou and Marcelli who each dropped one. But from there, Busto suffered five fiascos and was forced to settle for third.
Aniol Gelabert (Beta) took fourth position ahead of Adam Raga thanks to finishing third-best scorer in Round Two, enough to take fifth in the Championship overall. Adam Raga (TRRS) missed out on a podium place for the third consecutive X-Trial since our return from the summer break. Benoit Bincaz (Sherco) claimed sixth place on a tie-break against Toby Martyn (Montesa) with the better Section Four performance in Round Two.
Debutant Hugo Dufrese (GasGas) did well to beat Luca Petrella (GasGas) for eighth place.
At the end of the podium ceremony, Bou received the 2023 FIM X-Trial World Champion trophy.
Toni Bou (1st): "A win is the best way to finish the season. It has been a strange event for me, because there was no real pressure on my shoulders after settling the title last week in Madrid. I rode well in the first two Rounds but in the final I rode a little nervous and the big mistake I made in Section Five could easily have cost me the win Thankfully I was able to win the run-off against Gabriel Marcelli who has again made my life very difficult tonight."
Gabriel Marcelli (2nd): "I arrived here with the chance of taking second in the Championship and the first step for that was to make it in to the Final. I think I rode at a high level, so I am satisfied with that. Toni and I were tied right to the end and I had a chance to win, which I am also happy about. Although I didn't get silver, I have to be pleased to have been close right to the finish and to make it on to the World Championship podium which was the target. In other words, I have been very consistent this season."
Jaime Busto (3rd): "I started well in the first and second Round, but in the second Section of the Final I scored a five and from there I got nervous which stopped me from reaching any higher than third. Anyway, I am satisfied with what has been a positive season in which I have been consistent, which was my target. So I have made a good step forward."